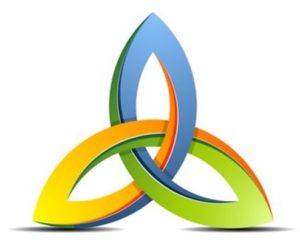 The Trinity
Today we celebrate the culmination of the revelations of the Godhead depicted in the Bible.
There is no explicit reference to the term Trinity but when we consider all the teaching of Scripture we can clearly see three identities in God.
Right at the beginning God is identified as One God (Deut. 6v4) not three different gods rolled into one.  The Holy Spirit is also mentioned in the Old Testament.  In the New Testament Jesus refers to God as Father and also tells his disciples that when he has returned to heaven, He will send His Holy Spirit to be with them.
There are further clear references to the three persons of the Godhead. All three are mentioned at his baptism (Matt. 3 v16- 17). In Matt. 28 v 19 the disciples are instructed to baptise in the name of the Father, the Son and the Holy Spirit. At the end of the second letter to the Corinthians we have the tripartite blessing that we use so often today.
We cannot grasp with our finite minds everything about our wonderful, creative, saving and sustaining God but the scriptures give us a clear picture of what we need to know about Him.
To me it is thrilling to realise that whilst those with the greatest intellects will never fully
understand His greatness yet a small child can comprehend His very essence!
Noreen Sweed