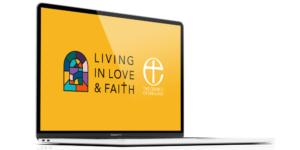 Living in Love and Faith – The Course
This is the Church of England's Flagship Course on Christian Teaching and learning together about identity, sexuality, relationships and marriage. The course meetings aim at creating a safe space where everyone's different views will be respectfully invited, listened to and discussed. The course will use audiovisual material and Bible passages to get the discussions going.
This will take place at 7.30pm in the Parish Room starting on Thursday 24th June and continue every Thursday Evening until 22nd July. The meetings aim to last about a hour.
For more information and to watch a short introduction from the Archbishop of Canterbury, please click here.
Please contact John Marsden (744142) or John Hosker (751132, j.hosker@btinternet.com) to get the course booklet and/or to express an interest in joining in.