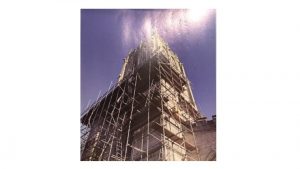 Major conservation project to the tower – almost done!
I imagine you are looking forward to seeing the extent of this important conservation project as the high-level scaffold begins its journey downwards to expose this wonderful medieval tower in all its glory. The work is due to commence on Monday 21 June.
During the dismantling, for the safety of all pedestrians who use footpaths through the churchyard, a temporary two-way diversion is about to be put in place over the next couple of days and will last for approximately three weeks. From the North gate of the churchyard, the signed diversion will take you along New Road, entering the churchyard at the Church Lane gate and then leaving by the South gate.  For members of the parish attending worship on Sunday mornings during this period there will be stewards at the main gates, escorting visitors to the South porch, being the point of entry into church. Please do bear with us, the work is almost done! Thank you.
Phil Beavers.
Chair of the Fabric Team