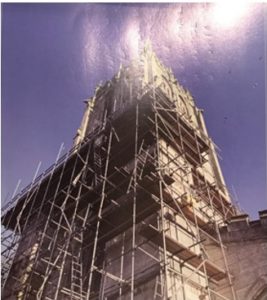 Major conservation work to the tower – completion expected on 9 July
Dismantling the tower scaffold continues apace. For the continued safety of all who use the footpaths through the churchyard, the temporary diversion will remain in place until the entire churchyard is clear of construction material. We are planning for this to be Friday 9 July, after which all footpaths can then safely re-open.
For members of the parish attending worship on Sunday 4 July and Wednesday 7 July, stewards at the main gates will escort visitors to enter church via the South porch. We are hopeful that entry into church from Sunday 11 July, will be via the North porch, this being our usual route. Should there be any changes to these arrangements, I will let you know.
Thanks for your continued patience……. We are nearly there!
Phil Beavers,
Chair of the Fabric Team.