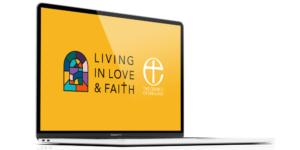 We have two important themes open to us at the moment—the one being 'Living in love and faith,' and the other, ' Caring for Creation.'.
Our Thursday evening sessions are inviting us to give thought and prayer to issues pertinent to today including : identity, sexuality, gender, relationships and marriage. As Christians the Bible is our source for Jesus' teaching. Jesus was born as a Jew at a specific time and his teaching is rooted in first century culture. As we believe his teaching relates to all times and places and has authority for us today, we need to learn to understand both Jesus' context and our own to grasp what he is asking of us. By paying attention to the stories of people who have very different lives and sometimes opposing views, we're taking a step towards being a community of believers who, through the love of Christ, respect and love one another.
Last week Noreen led our thoughts on Environment Sunday. In Genesis we read that God's creation 'was good'. As a nation and church we need to challenge ourselves as to how we are stewarding the earth's resources and how we are seeking to ensure justice and equality across the world. In the coming months let us all explore ways to see how we might help.
The Churchwardens