Sponsored Walk – in aid of the Warm and Welcoming Appeal – now rescheduled for Saturday 28 October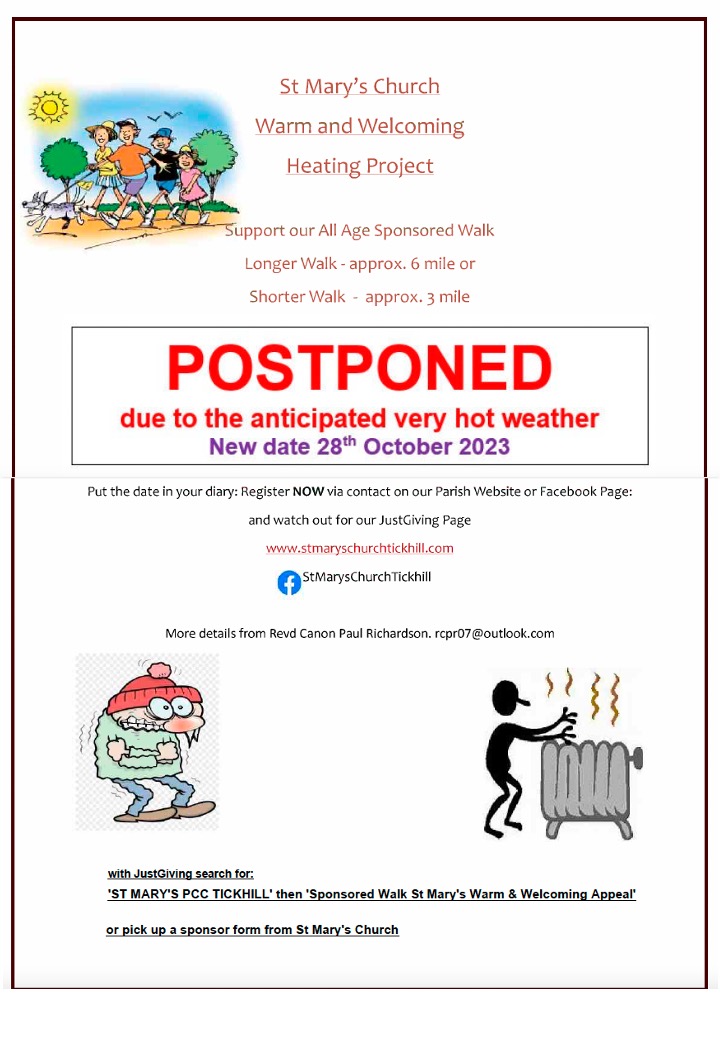 Sponsored Walk on September 9th has been POSTPONED. There is a new date of 28th October for this event to take place. 
Due to forecast very hot weather on the afternoon of Saturday 9th September, in the interest of safety, it has been decided to postpone the walk. 
It will now take place on Saturday 28th October 2023 when it is hoped the weather will be kinder. 
To raise funds for St Mary's Warm and Welcoming heating appeal. This is to ensure that our now obsolete and towards end-of-life gas boilers are replaced before they expire. We know that St Mary's church building can feel cold in winter but imagine it without any heating at all! 
The project cost is in the region of £100,000. We have around a third of that sum already raised, but we really need to get the final push towards the total as soon as possible.  
Go to the 'Sign-up Instructions' link for details on how to sign up on our JustGiving page. Alternatively click on the link to download your sponsor form. Whichever way you choose, get your family and friends to sponsor you. 
Sign-up Instructions – CLICK HERE
Download a Sponsor Form – CLICK HERE
Join us for the walk on the 28th October 2023 and have a fun time.